Buying and sending fresh flowers and cakes in Italy and in all the world is really easy with FloraExpress.
We never deliver boxed flowers, every flower bouquet is arranged just before being delivered directly by the florist of the FloraExpress network.
FloraExpress respects your privacy, you can send flowers anonymously simply by not signing the message, in this case we will not disclose the sender's information for any reason.
Furthermore, you can take advantage of additional services that only our network offers, such as:
Urgent deliveries even in 2 hours in all of Italy
Send fresh gifts like sweets, cakes, baskets, wines and local products paired with the flowers
Buy from the GIFTS + FLOWERS section where flowers are paired with beautiful branded gifts included in the price
With the Maxi surprise service you can send fresh sweets or cakes along with the flowers
You can place the order in 3 simple steps and send your floral gift.
How to purchase
Checkout process
Choose the product from the home page or from the categories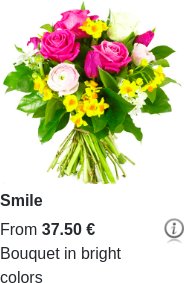 By clicking the chosen product, you will go to the "step 1" where you can view more details about the product and proceed with the checkout.
Here you will be asked to enter the delivery date and select the time, morning, afternoon, during the whole day or specific time delivery.
You will find 3 prices, these refer to the type of package and not the product which is always the same.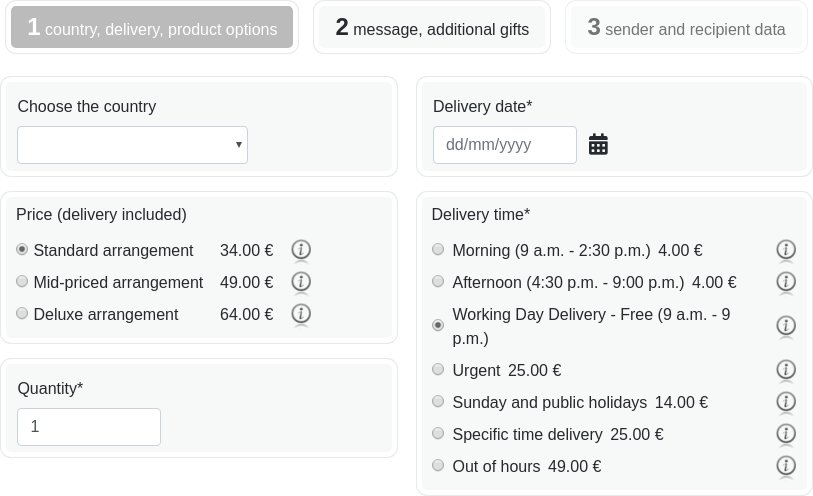 Once you have filled all the fields, click Continue to enter the "step 2".
You will have the chance to enter the message which will be written down and delivered with the flowers. You can choose one of the available sentences or write a personal message.
You can choose to sign the message, if there is no signature the flowers will be delivered anonymously and FloraExpress will never disclose the sender's identity for any reason.
Furthermore, you can choose among the available additional gifts to enrich your act, and they will be delivered with the flowers.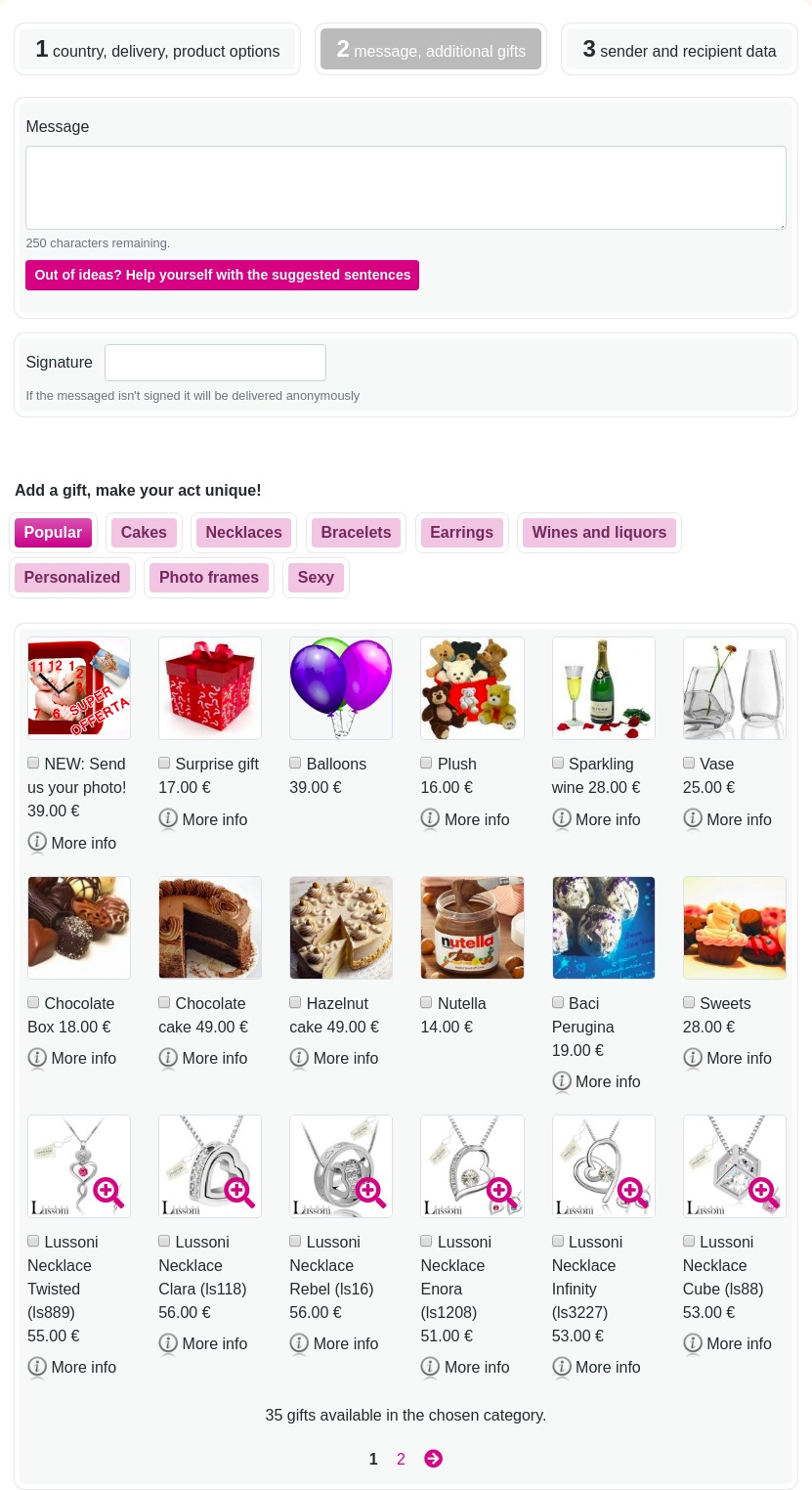 Click on Continue to go to the step 3 and complete the checkout.
You will be asked the details of the recipient and of the sender, and the payment method.
Make sure to enter the recipient's data and phone number correctly, as they are important to ensure a smooth delivery.
Credit card payments are made on secure PayPal connections and the payment is instant.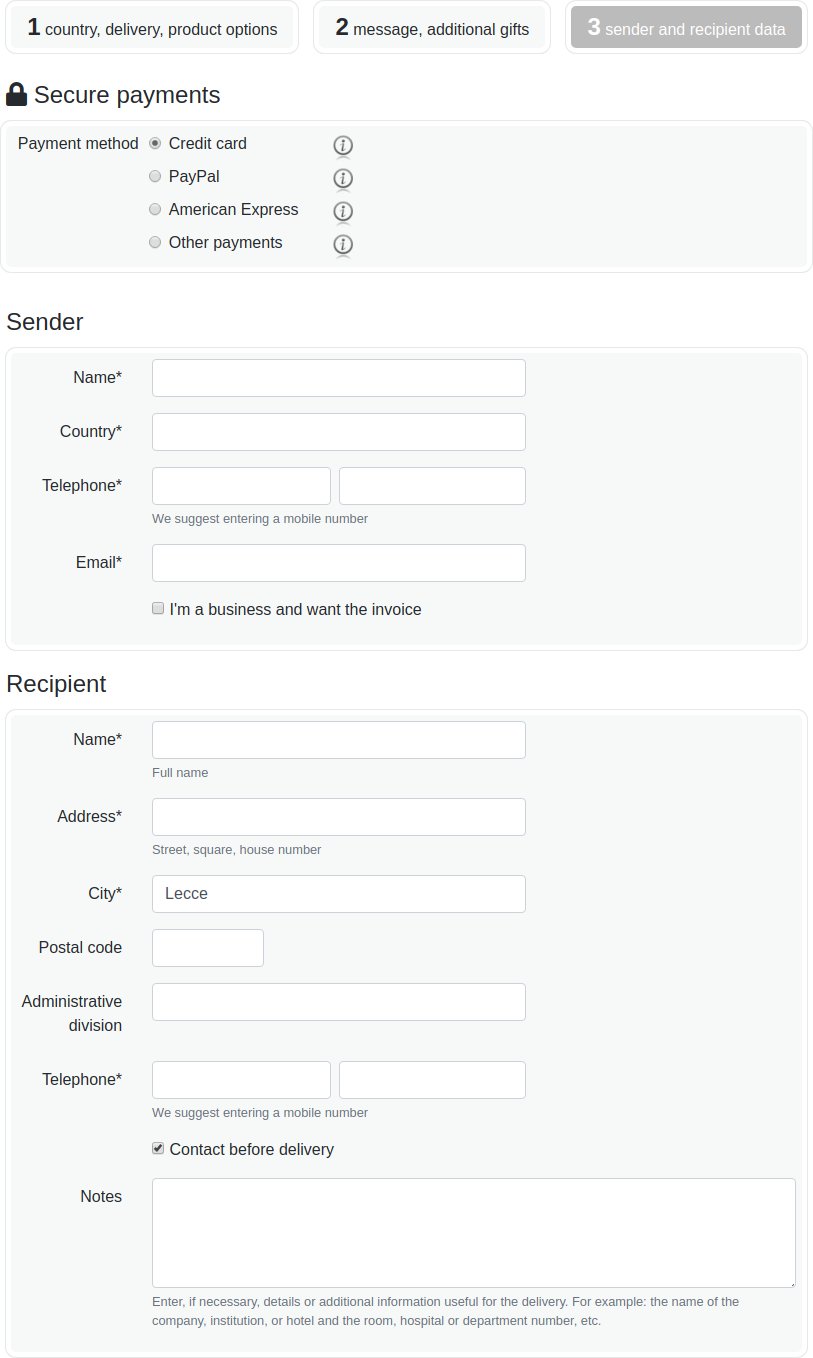 After the checkout you will be sent an order summary, with an order code. The order code can be used to monitor the status of your order from the confirmation until the delivery through our "online tracking" service, also you will be sent automated emails to update you on the delivery's status in real time.